DUE TO BREXIT THERE WILL BE EXTRA CHARGES WHEN SHOPPING FROM THE UK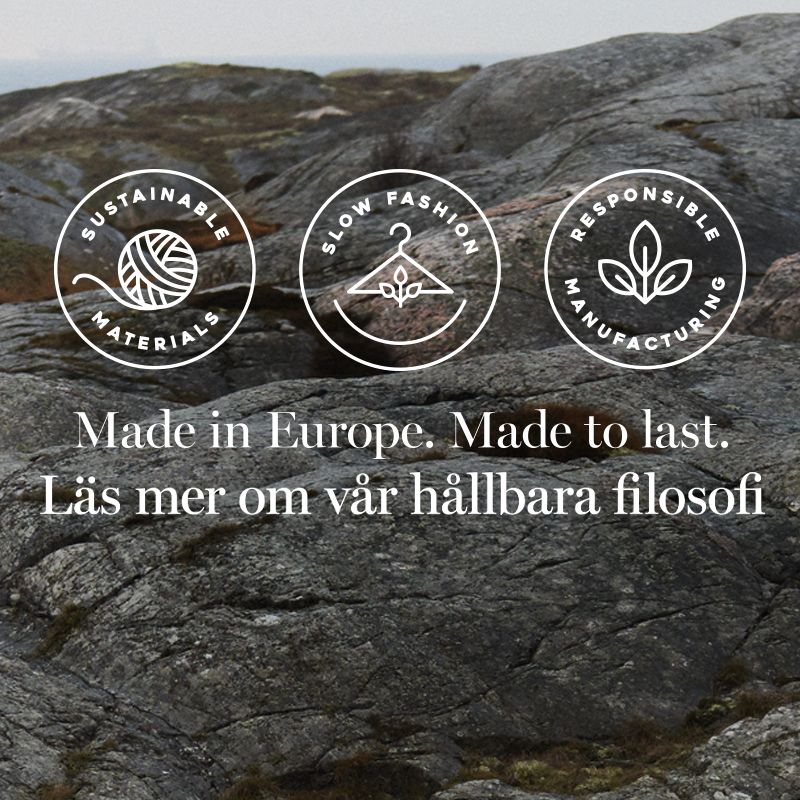 Our sustainable approach
From the very start one of our main focuses has been to make sure that our products have a very small impact on the environment. When we first started Holebrook, some twenty years ago, we had our own factory in Gällstad, a small place 20 km outside Ulricehamn where all our jumpers were made. In 2004 all the production, along with all our machines, were moved to Lithuania where a small family run company, not much different from ours, took over the actual production.Our sustainable work falls under three categories;Sustainable materials, 'Slow Fashion' and responsible manufacturing.These are the three main pillars that permeate our entire business.

Sustainable Materials
There are various aspects to consider when it comes to the durability of a garment, like timeless design, shape and tailoring, but above all it's the quality of the materials used that predict it's longevity. We always make sure that all our suppliers of yarn, fabrics and accessories carry the correct environmental authorisations. They are all handpicked according to our high standards for quality and sustainability. Most of them carry the Global Organic Textile Standard certification (GOTS), one of the World's leading manufacturing standards for textiles made of authorised ecologically produced raw materials. The Global Organic Textile Standards (GOTS) comprise strict environmental requirements to ensure organic status of textiles and socially responsible manufacturing all the way from harvesting to end consumer.
Another credential is Woolmark, one of the World's most well renowned textile authorisations for wool. The Woolmark certification is synonymous with a first-class product that carries all the way trough it's various lifecycles, meaning the wool does not contain any damaged fibres, which in turn implies better durability of the clothes. Our garments are mostly made out of natural materials, which means they don't need washing as often and this in turn prolongs not only the durability of the clothes but also has a positive effect on the environment over all.
We are constantly looking for new suppliers that measure up to our high demands of quality and durability even in regards to recycled materials, and we follow the development of textile recycling with a keen interest to always make sure our products are of the highest quality.
"Slow Fashion"
"Slow Fashion" is a concept opposite 'Fast Fashion' and is an approach towards fashion that promotes good quality and a more ethical and sustainable way of living and consuming.To us that signify not just to follow on fast trends, but creating clothes that are timeless and classic in design and made to last.Our collections always have items that carry forward over several seasons. They are not in any sales and return in following collections. In fact we are still creating pieces that have been around since the very start in1999 which have become popular classics. We stay low-key when it comes to sale and choose not to take part in any 'black Friday' types of sales, as we believe it promotes unnecessary and irresponsible consumption.

Responsible Manufacturing
The third category concerns our factories and producers. All manufacturing is done in Europe by suppliers that share our aim for sustainability and a good working environment. For instance one of our largest factories is operated by solar panels and most of the manufacturers we cooperate with carry one or several of the following certifications; ISO 9001, ISO 14001, GOTS, SMETA, Ecocert, BSCI, Human Rights among many others. We visit all our factories at least once a year. Our aspiration for sustainability is a constantly on going job. It is one of our primary focuses and has always permeated our business since the very start in 1999. We always make conscious choices and everything from the selection of our yarns, fabrics, buttons, leather accessories to our business relations are always selected with great care. We stay curious and informed, constantly looking for new suppliers and materials that all contribute to a less burdened environment.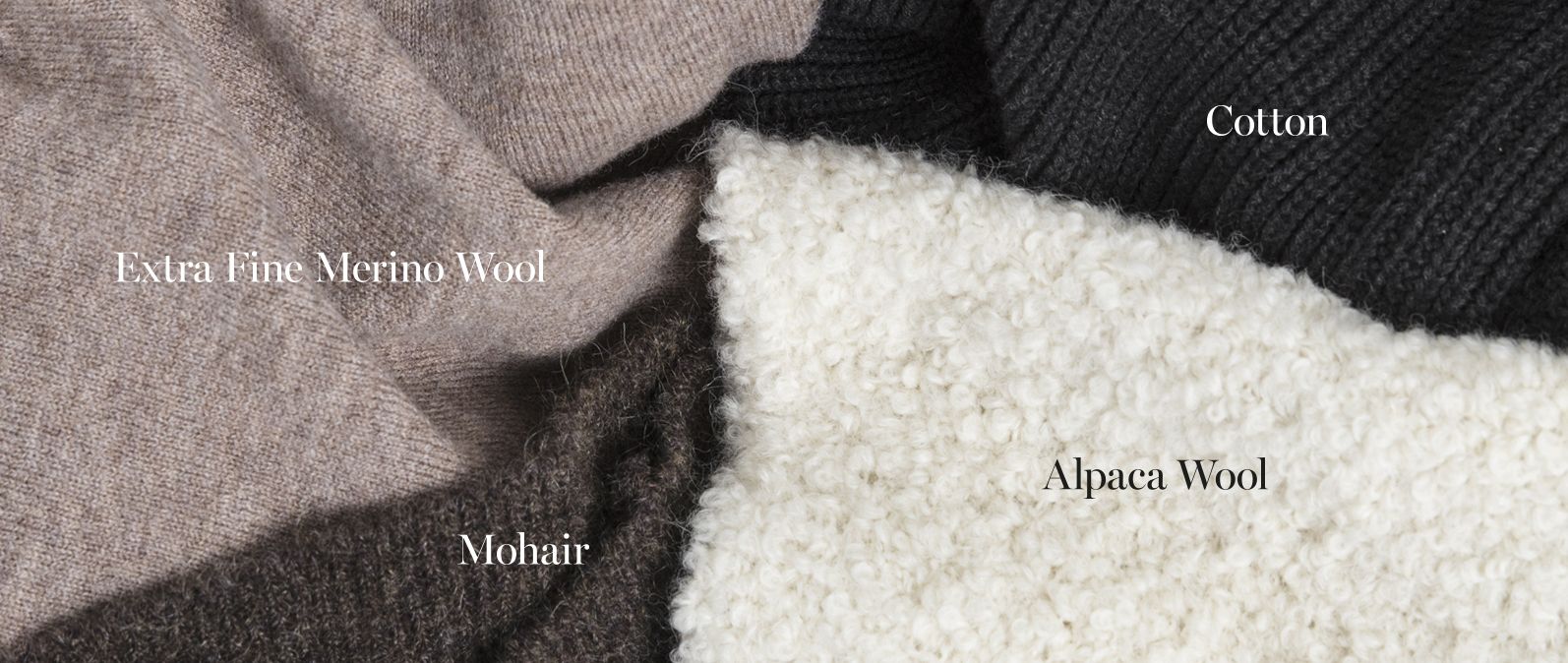 Alpaca Wool
Alpacas lite on high altitudes in the Andean region of South America. The wool has a perfectly soft structure, which gives the garments a wonderful feel.
Extra Fine Merino Wool
Merino wool comes from the merino sheep, and has fine and curly fibres. Its yarn is genuinely soft and nice to wear, and it is also one of today's most popular yarns.
Mohair
Mohair is wool from the Angora goat. Its fibres are a few centimetres long, which gives the garment a perfectly soft and a somewhat furry feel to it.
Cotton
Cotton is a natural material, and when spun into yarn, it becomes both soft and strong at the same time. Garments made from cotton are easily cared for, and cool and comfy to wear.
This website requires cookies to provide all of it's features. By continuing on this website you accept the use of cookies. For more information on what data is contained in the cookies, please see our
Privacy Policy page.
OK
SIGN UP FOR OUR NEWSLETTER.

Get first access to our new arrivals, events, and sales with our newsletter curated for you.
Holebrook Sweden
Storgatan 69
523 31 Ulricehamn
Sweden